Gothic 2 - Gold Edition
NOTICE: Activation key must be used on a valid Steam account, requires internet connection.
GOLD EDITION
---
Includes
Gothic 2
Gothic 2: The Night of the Raven
GOTHIC 2
---
A massive fully 3D lush environment to explore.
Gripping storyline continuing from the adventures of the first game yet able to be played and enjoyed by gamers who have not even seen the original Gothic
Numerous ways to achieve quests giving huge replay value
Players gain experience through using weapons and magic enabling them to become better at combat and spell casting
Three different character guilds to join each with their own unique allies and enemies within the world and skills to enhance their practice
Third-person view gives greater control over character movement and awareness of their environment
GOTHIC 2: THE NIGHT OF THE RAVEN
---
Revolutionary Action/Adventure/RPG Gameplay.
Become a Mercenary, Magician or Paladin and explore an intricate storyline with all new challenges.
Over 100 new characters - bringing the total to around 500.
Numerous ways to achieve your goals, through several new quests.
More than 30 new magical artifacts; rings, amulets and belts and 150 powerful weapons to wield.
50 breathtaking magic spells to cast.
SYSTEM REQUIREMENTS
---
OS: Windows XP/2000/ME/98/Vista
Processor: Intel Pentium III 700 MHz
Memory: 256 MB Ram or higher
Graphics: 3D graphics card with 32 MB Ram
DirectX®: 8.1
Hard Drive: 4 GB
Sound: DirectX compatible
Required configuration
OS: Windows XP/2000/ME/98/Vista
Processor: Intel Pentium III 700 MHz
Memory: 256 MB Ram or higher
Graphics: 3D graphics card with 32 MB Ram
DirectX®: 8.1
Hard Drive: 4 GB
Sound: DirectX compatible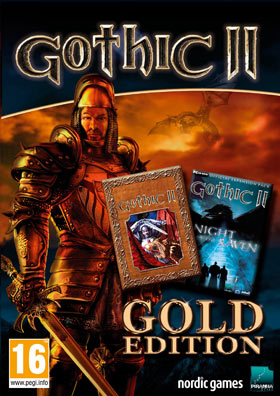 Language:

English

Genre:

Platform:

Win XP Win 2000 Win 98 Win Me Win 95

Number of players:

1

Release date:

2008-09-09

Publisher