Gothic 2 - Gold Edition
NOTICE: Activation key must be used on a valid Steam account. Requires internet connection.
About The Game
Gothic II: Gold Edition brings together the excitement of Gothic II and the add-on Night of the Raven to your fingertips!
You have torn down the magical barrier and released the prisoners of the Mine Valley. Now the former criminals of the forests and mountains are causing trouble around the capital of Khorinis. The town militia is powerless due to their low amount of force–outside of the town, everyone is helpless against the attacks of the bandits.
Key features
Over 100 thrilling missions on the different settings
A detailed, lively game environment with over 500 individual characters (each with their own daily routine)
The player determines the course of the story himself
Fight with more than 200 different weapons and magical spells
Over 12 hours of complete, English voice output
Includes the Night of the Raven add-on
System Requirements
Windows - Minimum
OS: Windows XP/2000/ME/98/Vista
Processor: Intel Pentium III 700 MHz
Memory: 256 MB Ram or higher
Graphics: 3D graphics card with 32 MB Ram
DirectX®: 8.1
Hard Drive: 4 GB
Sound: DirectX compatible
© 2016 THQ Nordic GmbH; THQ Nordic GmbH is a wholly owned publishing subsidiary of THQ Nordic AB. The THQ Nordic logo and the THQ Nordic symbol are registered trademarks or trademarks of THQ Nordic AB. All rights reserved.
Required configuration
Windows - Minimum
OS: Windows XP/2000/ME/98/Vista
Processor: Intel Pentium III 700 MHz
Memory: 256 MB Ram or higher
Graphics: 3D graphics card with 32 MB Ram
DirectX®: 8.1
Hard Drive: 4 GB
Sound: DirectX compatible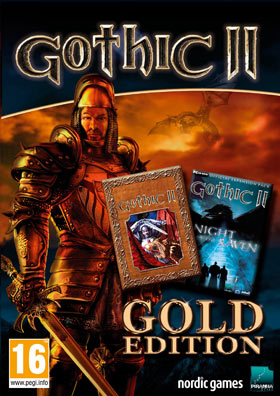 Language:

English

Genre:

Platform:

Win XP Win 2000 Win 98 Win Me Win 95

Number of players:

1

Release date:

2008-09-09

Publisher