Fallout Tactics: Brotherhood of Steel
Fallout Tactics: Brotherhood of Steel
NOTICE: Activation key must be used on a valid Steam account. Requires an internet connection.
About the game
Tactical Squad-Based Combat comes the Fallout® Universe!
You are the wretched refuse. You may be born from dirt, but we will forge you intsteel. You will learn tbend; if not you, will you break. In these dark times, the Brotherhood - your Brotherhood - is all that stands between the rekindled flame of civilization and the howling, radiated wasteland. Your weapons will become more than your tools, they will become your friends. You will use your skills tinspire the lowly and protect the weak... whether they like it or not. Your squadmates will be more dear tyou than your kin and for those that survive there will be honor, respect and the spoils of war.
system requirements
Windows - Minimum
OS: Windows 98/Me/2000/XP/Vista/Seven
Processor: Pentium 400Mhz
Memory: 64 MB RAM
Graphics: SVGA
Storage: 1,6 GB available hard drive space
DirectX: DirectX 7
Fallout®, Fallout® 2 and Fallout® Tactics are trademarks or registered trademarks of Bethesda Softworks LLC, a ZeniMax Media company, in the U.S, and/or other countries. All Rights Reserved.
Required configuration
Windows - Minimum
OS: Windows 98/Me/2000/XP/Vista/Seven
Processor: Pentium 400Mhz
Memory: 64 MB RAM
Graphics: SVGA
Storage: 1,6 GB available hard drive space
DirectX: DirectX 7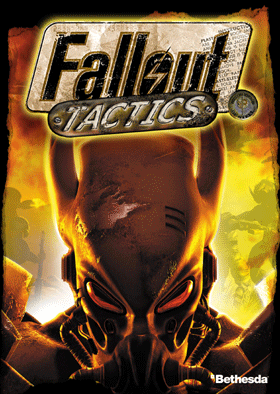 Language:

English

Genre:

Platform:

Vista Win XP Win 7 32/64 bits Win 2000 Win 98 Win Me

Number of players:

1 - 2

Release date:

2001-03-01

Publisher