Fallout 2: A Post Nuclear Role Playing Game
Fallout 2: A Post Nuclear Role Playing Game
NOTICE: Activation key must be used on a valid Steam account. Requires an internet connection.
About the game
Fallout® 2 is the sequel the critically acclaimed game that took RPG'ing out of the dungeons and inta dynamic, apocalyptic retro-future.
It's been 80 long years since your ancestor trod across the wastelands. As you search for the Garden of Eden Creation Kit tsave your primitive village, your path is strewn with crippling radiation, megalomaniac mutants, and a relentless stream of lies, deceit and treachery. You begin twonder if anyone really stands tgain anything from this brave new world.
Mastering your character's skills and traits for survival, Fallout® 2 will challenge you tendure in a post-nuclear world whose future withers with every passing moment...
system requirements
Windows - Minimum
OS: Windows 98/Me/2000/XP/Vista/Seven
Processor: Pentium (TM) 90 or faster
Memory: 16 MB RAM
Graphics: Direct X certified SCGA card
Storage: 30 MB available hard drive space
Notes: 100% Microsoft-compatible mouse
Fallout®, Fallout® 2 and Fallout® Tactics are trademarks or registered trademarks of Bethesda Softworks LLC, a ZeniMax Media company, in the U.S, and/or other countries. All Rights Reserved.
Required configuration
Windows - Minimum
OS: Windows 98/Me/2000/XP/Vista/Seven
Processor: Pentium (TM) 90 or faster
Memory: 16 MB RAM
Graphics: Direct X certified SCGA card
Storage: 30 MB available hard drive space
Notes: 100% Microsoft-compatible mouse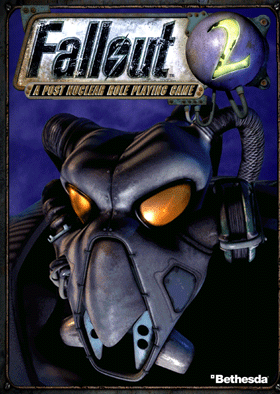 Language:

English

Genre:

Platform:

Vista Win XP Win 7 32/64 bits Win 98 Win Me

Number of players:

1

Release date:

1998-12-01

Publisher