Act of War: Direct Action
NOTICE: Activation key must be used on a valid Steam account. Requires internet connection.
ABOUT THE GAME
---
THE SITUATION
It is the not-so-distant future. The world is facing its worst energy crisis ever, with gas prices above $7 a gallon, a situation caused by drastically reduced production outputs by the oil companies and terrorist attacks against energy holdings around the globe. The situation is disastrous even in Western countries, with massive strikes, protests and calls for the governments to act. From anti-globalization protesters to anti-war forces to environmental activists, people across the board are demanding change. The level of activity is creating powerful instability -- instability that can be used as a weapon for those who operate in the shadows...
THE HERO
Meet U.S. Army Brigadier-General Jason Richter, a twenty-three year veteran of the U.S. Army and former commander of the 1st Special Forces Detachment Delta (Delta Force). Trained to be the best, he's a career soldier who's served his country with distinction -- but these days, he's persona non grata at the Pentagon. Army top brass view him as a menace, unorthodox in his approach and unfit for command. Fortunately for Richter, his loose-cannon personality is exactly what the National Security Advisor wants for the leader of a new anti-terrorist 'direct action' military unit known as Task Force Talon.
THE ENEMY
What started as scattered incidents of terror escalates quickly when a terrorist attack occurs on U.S. soil. Conventional warfare tactics no longer apply as pockets of professional terrorist groups, financed by a shadowy Consortium of back-room conspirators, begin well-coordinated attacks in the streets of cities around the world. Their purpose -- besides causing chaos and mayhem for the citizens of the world -- is a mystery.
THE ACTION
Using near-future weaponry, Task Force TALON engages the enemy in hotspots around the globe. From massive enemy assaults to delicate hostage extractions, from spy missions to search-and-destroy onslaughts, Richter's men will be pushed to their mental and physical limits as they struggle to contain a powerful, unpredictable enemy bent on toppling the governments of the world and securing the interests of the Consortium. As the balance of global power changes, so too does the face of war. Who will tomorrow's enemy be? Act Of War tells the story of an all too plausible future... a first look at tomorrow's war.
KEY FEATURES
---
CHILLING AND AUTHENTIC TECHNO-THRILLER - Storyline and game universe created in association with Dale Brown, 14 times NY Times best-selling author and expert on US military, global conflict and future military technology.
MILITARY AUTHENTICITY - The first RTS to combine a real universe with simple, elegant game play. Using highly detailed representations of existing and experimental military technology, AoW offers an authentic battle experience without the authentic complexity.
EMOTIONAL ATTACHMENT - Zoom down to street level on the urban battlefields of San Francisco, Washington DC, London and Moscow; all highly detailed, realistic, and fully destructible. Medevac your own wounded soldiers and take enemies prisoner (rather than killing them), contemporary/near-future combat comes to life in a very modern way.
UNIQUE, INNOVATIVE GAMEPLAY - 'Human resourcing model', based on prisoners of war, pilots, tank drivers and other non-combattants means that to survive, you really have to care about what matters in war; life and death.
TECHNOLOGY REVOLUTION - Level of detail in character animations and textures, and lighting technology only seen in FPS games to date.
INFINITE REPLAYABILITY - Extensive multiplayer options and single-player skirmish mode for inifnite replayability.
HUGE VARIETY - Three different playable sides, over 100 different units and upgrades, over fifteen skirmish maps with terrains from all over the world, over 30 single-player missions.
System Requirements
Windows - Minimum
Supported OS: Windows 2000/XP
Processor: Pentium 4 1.5 GHz or equivalent (3.0 GHz recommended)
Memory: 256 MB RAM (512 MB recommended)
Graphics: 64 MB Hardware T&L-compatible video card (256 MB recommended)
Sound: DirectX® version Windows 2000/XP-compatible sound card
Hard Drive: 3 GB free HD space
Broadband connection required for online multiplayer play
Required configuration
Windows - Minimum
Supported OS: Windows 2000/XP
Processor: Pentium 4 1.5 GHz or equivalent (3.0 GHz recommended)
Memory: 256 MB RAM (512 MB recommended)
Graphics: 64 MB Hardware T&L-compatible video card (256 MB recommended)
Sound: DirectX® version Windows 2000/XP-compatible sound card
Hard Drive: 3 GB free HD space
Broadband connection required for online multiplayer play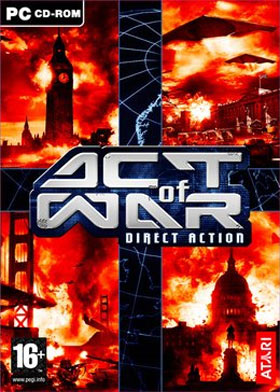 Language:

English

Genre:

Platform:

Number of players:

1

Release date:

2004-01-01

Publisher