Bang Bang Racing
NOTE : Activation key must be used on a valid Steam account. Requires internet connection.
ABOUT THE GAME
---
Bang Bang Racing
is a distinct arcade game focusing not only on the speed but also on the technical driving skills. The very intuitive control system and the exciting tracks provide endless fun for everyone in the family.
Bang Bang Racing
delivers fast-paced racing around every corner and down every straight. Drive high-speed, pumped-up racing cars through cones or exploding barrels! Be one step ahead of your competitors, finding shortcuts, repairing your car in the pitlane, and dominating your opponents from the top-down view.
KEY FEATURES
---
Visit exotic racing locations from all around the world


Complete 9 challenging reversible circuits and vary them with shortcuts


Choose from the 20 unique vehicles across 4 classes of racing- muscle cars like N-Dura, stock car series like Evo GT, world endurance championship like Protech and formula one open wheels cars like Apex


Vary your choice of vehicle with one of the 8 colorful skins offered


Call your friends to play with 4Player Split-screen Multiplayer Races


Compete for top honors with extensive Friends and Global Leaderboards


Face dynamic, interactive objects like cones or exploding barrels that make every race unpredictable


Be aware of environmental conditions affecting the drivable surface-Snow, Sand, Water and Oil
SYSTEM REQUIREMENTS
---
OS:Windows 7, Windows Vista, Windows XP
Processor:AMD/Intel dual-core processor running at 2.0 GHz
Memory:1024 MB RAM
Hard Drive:300 MB HD space
Graphics:ATI/nVidia graphic card with at least 128MB of dedicated VRAM and with at least DirectX 9.0c and Shader Model 3.0 support. ATI Radeon HD 3600 series and NVIDIA Geforce 8600GT
DirectX®:9.0c
Sound:Integrated or dedicated DirectX 9 compatible soundcard.
Additional:Please note that Bang Bang Racing will not run properly on Intel Graphic solutions
Required configuration
OS:Windows 7, Windows Vista, Windows XP
Processor:AMD/Intel dual-core processor running at 2.0 GHz
Memory:1024 MB RAM
Hard Drive:300 MB HD space
Graphics:ATI/nVidia graphic card with at least 128MB of dedicated VRAM and with at least DirectX 9.0c and Shader Model 3.0 support. ATI Radeon HD 3600 series and NVIDIA Geforce 8600GT
DirectX®:9.0c
Sound:Integrated or dedicated DirectX 9 compatible soundcard.
Additional:Please note that Bang Bang Racing will not run properly on Intel Graphic solutions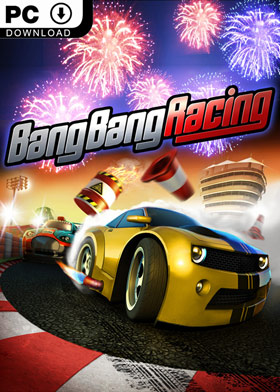 Language:

English

Genre:

Platform:

Vista Win XP Win 7 32/64 bits Win 7 32 bits Win 8 32/64 bits Win 8 32 bits

Number of players:

1+

Release date:

2012-06-08

Publisher