Football Manager 2019
NOTICE: Activation key must be used on a valid Steam account. Requires internet connection.
Preorder offer
Football Manager 2019 is available to pre-purchase now and managers who do so prior to full release on November 2nd will net a cool 10% off.
Advanced pre-purchase will also permit early access to a fully-playable Beta version of the game which should be available at least two weeks prior to the official release date. Single player careers started in this Beta version will also continue into the full game.
All purchases of Football Manager 2019 also include a free copy of Football Manager 2019 Touch for PC/Mac only.
About the game
In Football Manager 2019 YOU are the author of your club's success: you define the tactics and style of play, and drive player recruitment to build the ultimate squad. You take an active role on the training ground, developing your squad and fine-tuning the preparations for upcoming matches.
Then, when Match Day arrives, you take your place on the touchline, overseeing proceedings as your players cross that magical white line. Now, your footballing vision is put to the test!
Will the perfect substitution or tactical tweak be the difference between an agonising defeat or an ecstatic victory?
Test your skills in 50 of the biggest footballing countries
Climb to the top of the table and beyond with any one of world's top 2500 clubs
Play the transfer market and scout more than 500,000 real players and staff
Watch your unique football vision play-out on our acclaimed 3D engine
The Bundesliga and Bundesliga 2 are fully licensed and playable for season 2018/19 and give a very early flavour of what's to come as we build towards kick-off on November 2nd.
In total, there are 26 fully-licensed league competitions from 11 countries as well as a host of individual club licences from some of the world's biggest leagues, with more still to be confirmed.
Licensing updates along with new features and game upgrades will drop towards the end of September on our social channels, so get following now to get ahead of the game.
Key Provider Instructions
In order to activate this game, you will require a third-party 'Steam' account. For full details on how to activate please follow this link: https://support.steampowered.com/kb_article.php?ref=5414-TFBN-1352
System Requirements
Windows - Minimum
OS: Windows 7 (SP1), 8/8.1, 10 (1803/April 2018 Update) – 64-bit or 32-bit
Processor: Intel Pentium 4, Intel Core or AMD Athlon – 2.2 GHz +
Memory: 2 GB RAM
Graphics: Intel GMA X4500, NVIDIA GeForce 9600M GT or AMD/ATI Mobility Radeon HD 3650 – 256MB VRAM
Storage: 7 GB available space
Mac - Minimum
OS: 10.10.5, 10.11.6, 10.12.5, 10.13.5, 10.14 – 64-bit
Processor: Intel Core 2 – 1.8 GHz +
Memory: 2 GB RAM
Graphics: Intel GMA X4500, NVIDIA GeForce 9600M GT or AMD/ATI Mobility Radeon HD 3650 – 256MB VRAM
Storage: 7 GB available space
Additional Notes: OpenGL: 2.1
© Sports Interactive Limited 2018. Published by SEGA Publishing Europe Limited. Developed by Sports Interactive Limited. SEGA and the SEGA logo are either registered trademarks or trademarks of SEGA Holdings Co., Ltd. or its affiliates. SEGA is registered in the U.S. Patent and Trademark Office. Football Manager, the Football Manager logo, Sports Interactive and the Sports Interactive logo are either registered trademarks or trademarks of Sports Interactive Limited. All rights reserved. All other company names, brand names and logos are property of their respective owners.
Required configuration
Windows - Minimum
OS: Windows 7 (SP1), 8/8.1, 10 (1803/April 2018 Update) – 64-bit or 32-bit
Processor: Intel Pentium 4, Intel Core or AMD Athlon – 2.2 GHz +
Memory: 2 GB RAM
Graphics: Intel GMA X4500, NVIDIA GeForce 9600M GT or AMD/ATI Mobility Radeon HD 3650 – 256MB VRAM
Storage: 7 GB available space
Mac - Minimum
OS: 10.10.5, 10.11.6, 10.12.5, 10.13.5, 10.14 – 64-bit
Processor: Intel Core 2 – 1.8 GHz +
Memory: 2 GB RAM
Graphics: Intel GMA X4500, NVIDIA GeForce 9600M GT or AMD/ATI Mobility Radeon HD 3650 – 256MB VRAM
Storage: 7 GB available space
Additional Notes: OpenGL: 2.1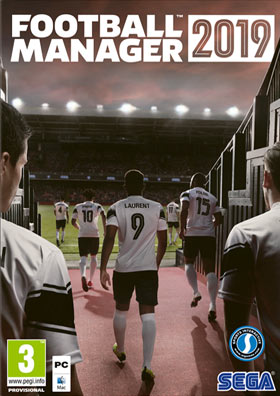 Language:

English

Genre:

Platform:

Win 7 32/64 bits Win 8 32/64 bits Win 8.1 32/64 bits Win 10 32/64 bits

Mac OS X

Number of players:

1+

Release date:

2018-11-02

Publisher