Way of the Hunter Elite Edition
NOTICE: Activation key must be used on a valid Steam account. Requires internet connection.
Elite Edition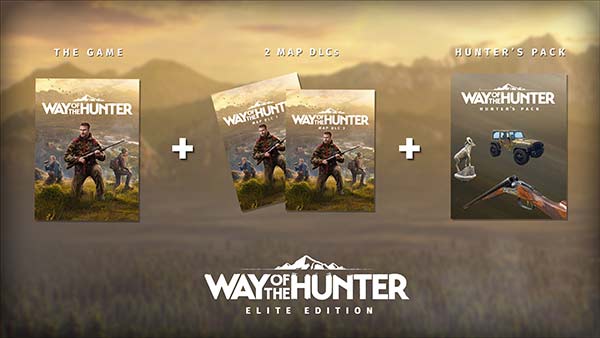 The Elite Edition includes the base game as well as the following extras items:
Way of the Hunter: Season Pass - The Way of the Hunter Season Pass includes two new region DLC's, each new region is 64 square kilometers and comes with new animals, weapons and weapon skins.
+ The Way of the Hunter Hunter's Pack
About The Game
This authentic hunting experience lets you explore and hunt in large open-world environments in the USA and Europe . Discover true to life animals in beautiful natural habitats and handle various detailed and highly realistic weapons.

Way of the Hunter provides a highly immersive, completely integrated experience amongst stunning wildlife with true to live animal group behavior. Witness the changing of complex ecosystems that react and adapt to your input. Learn what it means to be a true hunter and put your skills to the test.

Face the challenges of ethical hunting, supported by a compelling story, or simply enjoy hunting the rich environments freely.
Key features
Dozens of strikingly detailed animal species with realistic behavior models for a truly immersive hunting experience
Hunt like a pro with features that highlight animal signs, blood splatter analysis, and shot review with the rewindable bullet camera
Hunt your way through two unique and rich locations by car or by foot. Both the Pacific Northwest and Transylvania cover a terrain of 144 square km/55 square miles each
Use Hunter Sense to highlight important details and info, or disable it and customize your HUD for a hardcore experience
Complex Trophy system generates unique antlers and horns based on multiple factors like fitness and age
Sophisticated natural animal animations and reactions when sensing the players presence
24-hour day/night cycle with changing wind and weather
Realistic ballistics and bullet physics simulation
A broad selection of firearms and equipment, including licensed gear from Bushnell, Federal, Leupold, Primos, Remington and Steyr Arms
An in-game economy that lets you hunt game and sell the meat to purchase new gear, hunting passes, and taxidermy for your trophy stands
A compelling story about the struggles of a family hunting business, and the rivalry and friendships that surround it
Enjoy your perfect hunting adventure among friends in co-op mode
Intuitive photo mode for capturing and sharing your favorite moments
System Requirements
Windows - Minimum
Requires a 64-bit processor and operating system
OS: 64bit OS - Windows 10
Processor: AMD Ryzen 3 3100 / Intel Core i3-8100
Memory: 8 GB RAM
Graphics: GeForce GTX 960 / Radeon R9 380
DirectX: Version 11
Storage: 15 GB available space
Windows - Recommended
Requires a 64-bit processor and operating system
OS: 64bit OS - Windows 10
Processor: Intel i7 quad-core
Memory: 16 GB RAM
Graphics: NVidia GTX 2070 Super 8GB VRAM
DirectX: Version 11
Storage: 15 GB available space
Way of the Hunter © 2022 THQ Nordic AB, Sweden. Developed by Nine Rocks Games, published by THQ Nordic GmbH, Austria. All other brands, product names and logos are trademarks or registered trademarks of their respective owners. All rights reserved.
Required configuration
Windows - Minimum
Requires a 64-bit processor and operating system
OS: 64bit OS - Windows 10
Processor: AMD Ryzen 3 3100 / Intel Core i3-8100
Memory: 8 GB RAM
Graphics: GeForce GTX 960 / Radeon R9 380
DirectX: Version 11
Storage: 15 GB available space
Windows - Recommended
Requires a 64-bit processor and operating system
OS: 64bit OS - Windows 10
Processor: Intel i7 quad-core
Memory: 16 GB RAM
Graphics: NVidia GTX 2070 Super 8GB VRAM
DirectX: Version 11
Storage: 15 GB available space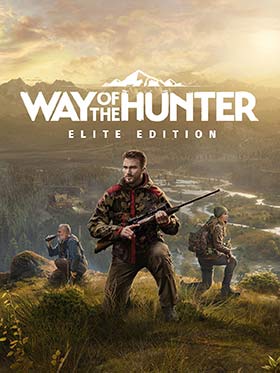 Language:

English

Genre:

Platform:

Win 11 64 bits Win 10 64 bits

Number of players:

1

Release date:

2022-08-16

Publisher