Secret Files: Sam Peters
NOTICE: Activation key must be used on a valid Steam account, requires internet connection.
ABOUT THE GAME
---
Bigfoot, the Abominable Snowman, the Loch Ness Monster - cryptozoologists are trying to track these creatures down and research them. One also appears in the legends of the Ashanti people in Ghana.
These tell of human-like creatures that lurk in the trees at night and take their victims off to their caves to suck their blood: the Asanbosam. Right after journalist Sam Peters has escaped from a volcanic eruption on an Indonesian island caused by terrorists, her boss sends her to Africa. Soon enough, strange things start happening at Bosumtwi, a mysterious crater lake. Could the Asanbosam really exist? Sam Peters is searching for the answers in this thrilling tale of the Secret Files series.
KEY FEATURES
---
Starring Sam Peters from Secret Files 2


An all-new story set in Africa


Discover the mystery behind the Asanbosam


Original and creative puzzles
SYSTEM REQUIREMENTS
---
OS: Windows® Vista™/Windows 7™/Windows 8™
Processor: Pentium® IV 2 Ghz Single Core equivalent or higher
Memory: 512 MB RAM memory
Graphics: DirectX® 9 compatible Graphics card with at least 128 MB RAM
Sound: DirectX® 9 compatible 16 Bit-Sound Card (optional)
Hard Drive: 750 MB free space on Hard Disk Drive
---
© 2013 Animation Arts Creative GmbH Published 2013 by Deep Silver, a division of Koch Media GmbH, Austria Uses Bink Video. Copyright (C) 1997-2013 by RAD Game Tools, Inc. All trademarks are the property of their respective owners. Not for rental.
Required configuration
OS: Windows® Vista™/Windows 7™/Windows 8™
Processor: Pentium® IV 2 Ghz Single Core equivalent or higher
Memory: 512 MB RAM memory
Graphics: DirectX® 9 compatible Graphics card with at least 128 MB RAM
Sound: DirectX® 9 compatible 16 Bit-Sound Card (optional)
Hard Drive: 750 MB free space on Hard Disk Drive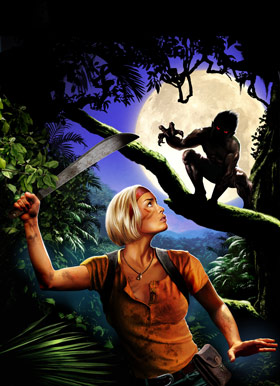 Language:

English

Genre:

Platform:

Vista Win 7 32/64 bits Win 8 32/64 bits

Number of players:

1

Release date:

2013-10-18

Publisher