Sacred Citadel
NOTICE: : Activation key must be used on a valid Steam account. Requires internet connection.
About The Game
Sharpen your axe, string your bow, brew your potions! Ancaria needs heroes like you. Grab your friends to join the resistance!
The once peaceful land of Ancaria is in grave danger. The evil Ashen empire has enslaved its population and is using the orc-like Grimmoc to wipe out the Seraphim, who swore to protect it. In order to defeat the empire you will have to prove yourself as a warrior by riding terrifying mounts, acquiring earth shattering skills and looting powerful weapons and valuable treasures. Grab your friends and join the resistance!
Key Features
Battle it out with up to 3 player co-op
Take charge of 1 of 4 unique playable character classes with their own set of skills
Explore the vast world of Ancaria
Ride thumping mounts and use devastating war-machines
Tons of loot!
Define your own fighting style with different weapon combinations
Required Configuration
Windows - Minimum
OS:Vista/Win7
Processor:2GHz Dual Core
Memory:2 GB RAM
Graphics:Nvidia GeForce 8600 or better, ATI Radeon HD 2600 or better
DirectX:9.0c
Additional:GPU Memory : 256MB
© Copyright 2013 and Published by DeepSilver, a division of Koch Media GmbH, Gewerbegebiet 1, 6604 Höfen, Austria.All rights reservedDeveloped by Southend Interactive AB.Sacred is a registered trademark of Koch Media. Southend Interactive AB and its associated logo are trademarks of SouthendInteractive AB. "Deep Silver" and the Deep Silver logo are registered trademarks of Koch Media GmbH. All trademarks of eachparty and trademarks within the Game IP shall be identified using the symbols ® or "TM" (as the case may be).
Required configuration
Windows - Minimum
OS:Vista/Win7
Processor:2GHz Dual Core
Memory:2 GB RAM
Graphics:Nvidia GeForce 8600 or better, ATI Radeon HD 2600 or better
DirectX:9.0c
Additional:GPU Memory : 256MB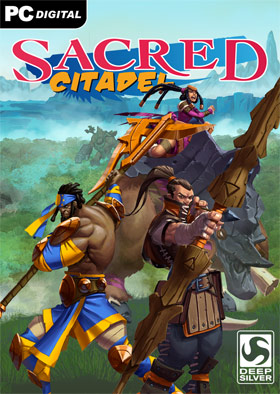 Language:

English

Genre:

Platform:

Vista 32/64 bits Win 7 32/64 bits Win 8 32/64 bits

Number of players:

1+

Release date:

2013-04-02

Publisher