Overlord
NOTICE: Activation key must be used on a valid Steam account. Requires internet connection.
About The Game
Prepare to be tempted, mesmerized and thrilled, become the Overlord, how corrupt you become depends on how you handle any given situation. Your actions impact the game world. With incredible power at your disposal and a team of evil minded minions to do your evil bidding, how will you resist the temptation to be incredibly despotic?
THINK EVIL, BREED EVIL, CONTROL ALL!
KEY FEATURES
Control a horde of Minions
Intuitive control over a crowd of evil minded minion creatures
Use Minions to smash, destroy, kill, steal and intimidate
Become the Overlord
Forge loot from the battlefield into powerful weapons and armour
Gain Overlord powers such as the ability to make enemies burst into flames and cower down before you
Conquer the world and impose your will on its people
Explore a twisted fantasy world
A unique story that combines evil bidding with impish humour
Defeat the seven fallen heroes to rule over all the world
Required Configuration
Windows - Minimum
OS: Microsoft(R) Windows(R) XP
Memory: 512 MB RAM
Processor: Pentium 4 2.4 GHz or Athlon XP 2400+
Hard Drive: 4.5 GB available space
Graphics: GeForce FX5900 / Radeon 9500 or above
Sound: DirectX Compatible soundcard
DirectX :DirectX 9c
Required configuration
Windows - Minimum
OS: Microsoft(R) Windows(R) XP
Memory: 512 MB RAM
Processor: Pentium 4 2.4 GHz or Athlon XP 2400+
Hard Drive: 4.5 GB available space
Graphics: GeForce FX5900 / Radeon 9500 or above
Sound: DirectX Compatible soundcard
DirectX :DirectX 9c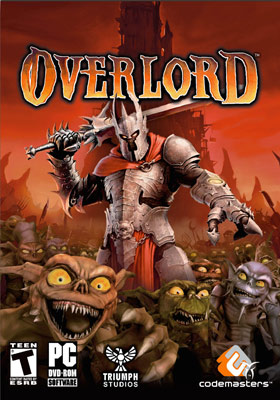 Language:

English

Genre:

Platform:

Number of players:

1

Release date:

2007-06-26

Publisher