Mafia II - Deluxe Edition (Mac)
NOTICE: Activation key must be used on a valid Steam account, requires internet connection.
ABOUT THE GAME
---
Welcome to the society of the chosen.
Live the life of Vito Scaletta, a small-time gangster with plenty of ambition and a talent for taking care of business. As Vito rises through the ranks of a powerful mob family, he discovers that life as a wise guy is as dangerous as it is glamorous.
In a gripping and stylish action adventure, Vito must prove himself an efficient enforcer, a skilled getaway driver and a reliable hit-man. Set in a mythic post-war America,
Mafia II
tells an intense story of friendship, loyalty, betrayal and revenge.
KEY FEATURES
---
From the mean streets of Little Italy and Chinatown to the dizzying heights of its glittering skyline, find out if you have what it takes to be somebody in the city of Empire Bay.


Immerse yourself in a violent criminal underworld in an all-consuming quest to become a man of honour.


Navigate the dangerous twists and turns of an intricate plot played out in a spectacularly cinematic recreation of the 1940s and 50s.


Lead the line in lethal shootouts, brutal hand-to-hand combat and tense stealth missions.


Shoot the breeze with a rogue's gallery of intriguing characters brought to life by outstanding voice-acting.


Get behind the wheel of lovingly modelled period cars and burn rubber in white-knuckle chases.


Play along to an evocative soundtrack of hit songs from the most popular crooners of the age.


The Digital Deluxe Edition contains the Made Man Pack, Digital Art Book, Orchestral Soundtrack and a Digital Map of Empire Bay.
SYSTEM REQUIREMENTS
---
Minimum Requirements:
OS: MAC OS X 10.10 Yosemite
Memory: 4 GB RAM
Processor: AMD Athlon 64 X2 3600+ (Dual core) 1.8GHz
Hard Drive: 15 GB available space
Graphics: 512 MB
Recommended Requirements:
OS: MAC OS X 10.11 El Capitan
Memory: 4 GB RAM
Processor: AMD Athlon 64 X2 3600+ (Dual core) 2.4GHz
Hard Drive: 15 GB available space
Graphics: 2048 MB
---
© 1998–2016 Take-Two Interactive Software, Inc., and its subsidiaries. Mafia ® II developed by 2K Czech. 2K Czech, 2K Games, Illusion Engine, Mafia, Mafia II, Take-Two Interactive Software and their respective logos are all trademarks and/or registered trademarks of Take-Two Interactive Software, Inc. Facial animation software ©2002-2016, OC3 Entertainment, Inc. and its Licensors. Uses FMOD Ex Sound System and Firelight Technologies. This software product includes Autodesk® Kynapse®, property of Autodesk, Inc. ©2009-2016, Autodesk, Inc. Autodesk and "Autodesk® Kynapse®" are registered trademarks or trademarks of Autodesk, Inc. The content of this videogame is fictional and is not intended to represent or depict an actual record of the events, persons, or entities in the game's historical setting. The makers and publishers of this videogame do not in any way endorse, condone or encourage engaging in any conduct depicted in this videogame. Mac and the Mac logo are trademarks of Apple Inc. registered in the U.S. and other countries. Feral and the Feral logo are trademarks of Feral Interactive Ltd. All other trademarks and copyrights are the property of their respective owners. All rights reserved.
Required configuration
Minimum Requirements:
OS: MAC OS X 10.10 Yosemite
Memory: 4 GB RAM
Processor: AMD Athlon 64 X2 3600+ (Dual core) 1.8GHz
Hard Drive: 15 GB available space
Graphics: 512 MB
Recommended Requirements:
OS: MAC OS X 10.11 El Capitan
Memory: 4 GB RAM
Processor: AMD Athlon 64 X2 3600+ (Dual core) 2.4GHz
Hard Drive: 15 GB available space
Graphics: 2048 MB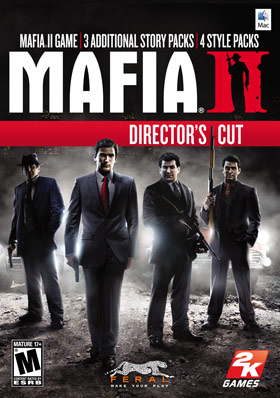 Language:

English

Genre:

Platform:

Number of players:

1

Release date:

2016-08-12

Publisher