Fallout 76 Tricentennial Edition
NOTICE: Activation key must be used on a valid Bethesda account. Requires internet connection.
Tricentennial Edition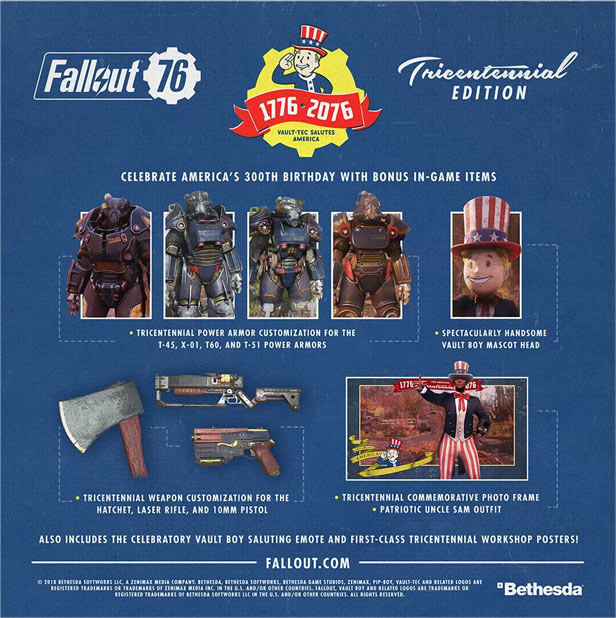 INCLUDED WITH PURCHASE:
Fallout 76 Base Game
Fallout 76 Tricentennial Edition Bonus In-Game Items:
Tricentennial Power Armor Customization for the T-51, T-45, T-60, and X-01 Power Armors
Tricentennial Weapon Customization for the 10MM Pistol, Hatchet, and Laser Rifle
Spectacularly Handsome Vault Boy Mascot Head
Patriotic Uncle Sam Outfit
Celebratory Vault Boy Saluting Emote
First-Class Tricentennial Workshop Posters
Tricentennial Commemorative Photo Frame
About the game
OUR FUTURE BEGINS
Bethesda Game Studios, the award-winning creators of Skyrim and Fallout 4, welcome you to Fallout 76, the online prequel where every surviving human is a real person. Work together, or not, to survive. Under the threat of nuclear annihilation, you'll experience the largest, most dynamic world ever created in the legendary Fallout universe.
Reclamation Day, 2102. Twenty-five years after the bombs fall, you and your fellow Vault Dwellers—chosen from the nation's best and brightest – emerge into post-nuclear America. Play solo or join together as you explore, quest, build, and triumph against the wasteland's greatest threats.
System Requirements
Windows - Minimum
CPU: Intel Core i5-2500K 3.3GHz or AMD FX-8320
Graphics: Nvidia GeForce GTX 960 2GB or AMD Radeon R9 380
RAM: 8GB
Windows: Win 7, 8, 8.1, and 10 64 BIT
DirectX: Dx 11
HDD space: 50 GB
Required configuration
Windows - Minimum
CPU: Intel Core i5-2500K 3.3GHz or AMD FX-8320
Graphics: Nvidia GeForce GTX 960 2GB or AMD Radeon R9 380
RAM: 8GB
Windows: Win 7, 8, 8.1, and 10 64 BIT
DirectX: Dx 11
HDD space: 50 GB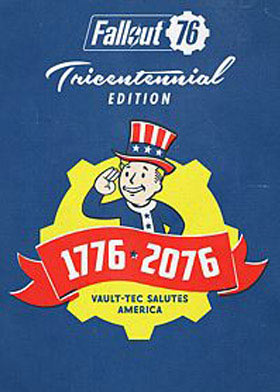 Language:

English

Genre:

Platform:

Win 7 64 bits Win 8 64 bits Win 8.1 64 bits WIN 10 64 bits

Number of players:

1+

Release date:

2018-11-14

Publisher