Fallout 76
NOTICE: Activation key must be used on a valid Bethesda account. Requires internet connection.
About the game
The first chapter in the new Brotherhood of Steel questline, free for Fallout 76 players.
Two vying factions are struggling to gain the upper hand as the secrets of West Virginia are revealed. The Settlers have come to find a new home, and the Raiders have come to exploit them. Embark on a new quest for the Overseer, forge alliances with competing factions, and uncover the truth of what's hidden in the mountains.
Key features
Ad Victoriam!

Steel Dawn is the first chapter in the new Brotherhood of Steel questline, free for Fallout 76 players. Paladin Leila Rahmani and her troops have arrived from California to establish a new Appalachian chapter. Work with or against the other Factions to achieve success. Visit settlements populated with new NPCs and unlock powerful weapons and armor from the Brotherhood arsenal. Join in their mission to rebuild society and aid in securing valuable technology – but only you can determine how it will be used.

New Questline

Determine how you will aid The Brotherhood of Steel NPCs in the first chapter of their new all-new story.

New Locations and Gear

Unlock unique weapons and armor from Steel Dawn and explore new locations newly populated with members of The Brotherhood and other factions.

C.A.M.P. Shelters

Build and decorate in new underground, instanced spaces separate from your main C.A.M.P. Complete a new quest and get your first Shelter free.

Brotherhood Recruitment Bundle

Join the new Brotherhood of Steel chapter in Appalachia and unlock bonus in–game digital themed cosmetic and C.A.M.P. items, including the Brotherhood Scouting Tower, Tactical Field Pack and more!
System Requirements
Windows - Minimum
Windows: Windows 7/8.1/10 (64-bit versions)
CPU: Intel Core i5-6600k 3.5 GHz /AMD Ryzen 3 1300X 3.5 GHz or equivalent
Graphics: NVIDIA GTX 780 3GB/AMD Radeon R9 285 2GB or equivalent
RAM: 8GB
Network: Broadband Internet connection
Storage: 60 GB available space
Required configuration
Windows - Minimum
Windows: Windows 7/8.1/10 (64-bit versions)
CPU: Intel Core i5-6600k 3.5 GHz /AMD Ryzen 3 1300X 3.5 GHz or equivalent
Graphics: NVIDIA GTX 780 3GB/AMD Radeon R9 285 2GB or equivalent
RAM: 8GB
Network: Broadband Internet connection
Storage: 60 GB available space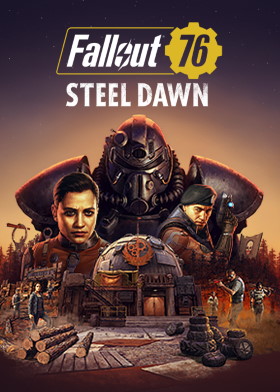 Language:

English

Genre:

Platform:

Win 7 64 bits Win 8.1 64 bits Win 10 64 bits

Number of players:

MMO

Release date:

2018-11-14

Publisher