Disintegration
Preorder Now!
You will recieve your key when the game launches on the 31/02/2015 at 0:00.
NOTICE: Activation key must be used on a valid Steam account. Requires an internet connection.
Pre-order offer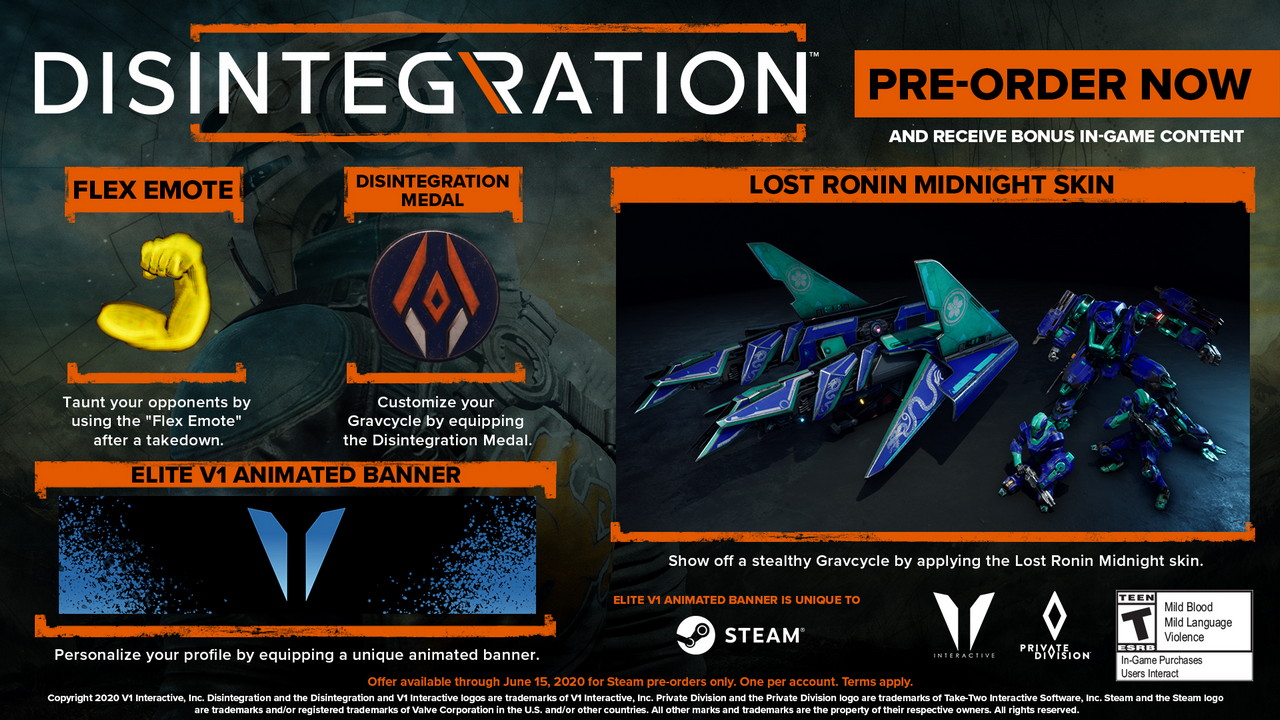 Pre-order now to receive bonus cosmetic digital content for multiplayer, including a unique Lost Ronin Midnight crew skin, Flex emote, a Disintegration Medal Gravcycle attachment, and Elite V1 animated banner
About the game
Disintegration is a new sci-fi first-person shooter set in the near future on Earth where the only hope for human survival is through Integration, a process developed to preserve human brains in robotic armatures.
You play as Romer Shoal, a former Gravcycle pilot in command of a small Integrated resistance still grasping onto fading memories of their human selves. With the domineering Rayonne forces set on eliminating the final remnants of human society, it's up to Romer and his crew of Outlaws to fight back and reboot humanity. Pilot a variety of armed Gravcycles and command your crew on the ground by leveraging a variety of unique unit abilities and mastery of your own personal arsenal to dominate the battle.
Disintegration features a thrilling single-player campaign and frenetic PvP multiplayer where pilots and their crews compete in three exciting game modes across a variety of maps.
Key Features
Tactical Gravcycle combat: Pilot a heavily armed Gravcycle featuring a variety of firepower, maneuverability, and abilities. Also command your crew on the ground, directing them to attack targets, pick up items, and use their unique abilities to turn the tide in battle.
Riveting single-player campaign: From Marcus Lehto, the co-creator of Halo and creative director of Halo: Reach, comes an all-new sci-fi saga. Play as Romer Shoal and confront the Rayonne, a rising global army set on eliminating what remains of humanity.
Frenetic multiplayer action: Battle across a variety of maps in three intense, team-based 5v5 multiplayer modes. Choose your favorite Gravcycle and lead your crew alongside your teammates, competing against opposing pilots to win objective-based matches.
Customize your crews: Each multiplayer crew has their own individual look and personality, along with different skillsets and playstyles. Master your favorite crew and customize your experience with a variety of skins, banners, badges, and emotes.
system requirements
Windows - Minimum
System Requirements Coming Soon
Requires a 64-bit processor and operating system
OS: N/A
Processor: N/A
RAM: N/A GB RAM
Graphics card: N/A
HDD: N/A GB available space
DirectX : N/A
Windows - Recommended
System Requirements Coming Soon
Requires a 64-bit processor and operating system
OS: N/A
Processor: N/A
RAM: N/A GB RAM
Graphics card: N/A
HDD: N/A GB available space
DirectX : N/A
Copyright 2020 V1 Interactive, Inc. Disintegration and the Disintegration and V1 Interactive logos are trademarks of V1 Interactive, Inc. Private Division and the Private Division logo are trademarks of Take-Two Interactive Software, Inc. The "PS" Family logo and "PS4" are registered trademarks of Sony Interactive Entertainment Inc. Steam and the Steam logo are trademarks and/or registered trademarks of Valve Corporation in the U.S. and/or other countries. The ratings icon is a trademark of the Entertainment Software Association. All other marks and trademarks are the property of their respective owners. All rights reserved.
Required configuration
Windows - Minimum
System Requirements Coming Soon
Requires a 64-bit processor and operating system
OS: N/A
Processor: N/A
RAM: N/A GB RAM
Graphics card: N/A
HDD: N/A GB available space
DirectX : N/A
Windows - Recommended
System Requirements Coming Soon
Requires a 64-bit processor and operating system
OS: N/A
Processor: N/A
RAM: N/A GB RAM
Graphics card: N/A
HDD: N/A GB available space
DirectX : N/A
Language:

English

Genre:

Platform:

Number of players:

1+

Release date:

2020-06-16

Publisher