Delta Force: Task Force Dagger
NOTICE: Activation key must be used on a valid Steam account, requires internet connection.
ABOUT THE GAME
---
As the US army's elite special operations soldiers you are the most potent 'smart weapon' known to man. You are the 'tip of the spear' for covert operations around the world — you are the first line of attack. Nothing stands in your way. From the war torn streets of Somalia you have been re-deployed to take out targets in Colombia and Iran. As the US military's preemptive strike force you must work with your team to get the job done.
KEY FEATURES
---
Become the best — Play as any one of these Special Forces units: SFOD-Delta, 2/75th RANGER, SEAL Team 6, SFOD-SF Viper Team (Green Berets), CIA Special Operations, UK SAS 22 Regiment, Australian SASR, Canadian JTF-2, Marines Force Recon, and USAF CSAR (Air Force Pararescue) — all the actual Special Forces units deployed in Operation Enduring Freedom.


Infiltrate actual locations — 25 new Delta Force missions! Take over the Kandahar Airport, raid rebel headquarters in Mazar-e-Sharif, ambush a convoy near the Pakistani border and demolish bunkers in the foothills of Kabul.


Over 30 weapons to choose from — Gear up with a huge arsenal of machine guns, assault rifles, sniper rifles, pistols and rocket launchers new to the Delta Force series.


Spy on the enemy — Plan your attack with the element of surprise using visual intelligence gathered from Unmanned Aerial Vehicles.


Rain destruction from the skies — Call in devastating air strikes to take out key SAM and SCUD missile sites.


Large-scale multiplayer — Create your own multiplayer games and maps with the mission editor. 10 new multiplayer maps included! *Battle online via NovaWorld
SYSTEM REQUIREMENTS
---
Operating System: Microsoft® Windows® 2000/XP/Vista
Processor: Intel® Pentium® II 400MHz or better
Memory: 128 MB RAM
Hard Disk Space: 480 MB
Video Card: Direct3D with 32 MB or better
Sound Card: DirectX-compliant
DirectX® Version: 7.0 or higher
Required configuration
Operating System: Microsoft® Windows® 2000/XP/Vista
Processor: Intel® Pentium® II 400MHz or better
Memory: 128 MB RAM
Hard Disk Space: 480 MB
Video Card: Direct3D with 32 MB or better
Sound Card: DirectX-compliant
DirectX® Version: 7.0 or higher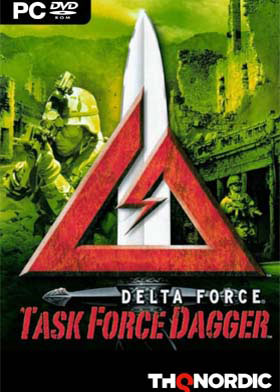 Language:

English

Genre:

Platform:

Number of players:

1+

Release date:

2002-06-27

Publisher