Curse of the Dead Gods
NOTICE: Activation key must be used on a valid Steam account. Requires an internet connection.
Early access game
Get instant access and start playing; get involved with this game as it develops.

About the game
You seek untold riches, eternal life, divine powers - it leads to this accursed temple, a seemingly-infinite labyrinth of bottomless pits, deadly traps, and monsters.
Use weapons, the environment, your brains and skills to defeat the temple
Collect mystical Relics and an arsenal of weapons to make yourself unstoppable. Battle through hordes of enemies in dark, cavernous passages filled with traps and secrets of all sorts - fire-spewing statues, explosives, hidden spikes, and worse.
Play your way and turn curses to your advantage
Corruption builds in you with every step - encourage or ignore it, but each powerful curse can be a double-edged sword.
Greed will kill you, greed will save you
Your greed will lead you to death, but that is not an escape. Rise to fight again. Delve deeper again. Defy the malignant deities that linger in this place.
Key features
A skill-based roguelike exploring a cruel, dark temple made of endless rooms and corridors
Swords, spears, bows, guns - wield these and many more
Light and fire will be your best allies to overcome the threats that lie in the shadows
Unique curses influence each attempt, putting a twist on every action
Dozens of enemies, with powerful champions and deadly bosses to face off against
What the developers have to say
Why Early Access?
"Curse of the Dead Gods is a passion project and one with a huge variety of possible development directions. We want to get community feedback and opinions on what the best thing to do would be. It is also a modular and replayable game, which we think fits Early Access to a tee. Naturally, we have a development roadmap and a plan to get to release, but we're willing - and, indeed, excited - to adapt and change as the community finds what they love about our game.
We're also interested in developing the story and world-building across a decent period, and Early Access is the perfect fit for that.
Early Access will start early 2020. Until then, we are running First Explorer tests outside of Steam, which you can see on the official site. These are limited, extremely early stage tests, but it's also free to sign-up - check the official website for more."
Approximately how long will this game be in Early Access?
"We have a plan to launch before the end of 2020. However, no development plan can possibly survive contact with feedback (Sun-Tzu said that), so we will be delighted to extend this timeframe if there is more to work on. Naturally, we'll keep you updated far in advance on potential release dates."
How is the full version planned to differ from the Early Access version?
"The final version of Curse of the Deads Gods will feature three full sections, each focused on a different god, plus many more weapons, curses, relics, and other things we can't wait to show you. There's also a lot to expand and improve on in every system once feedback starts flooding in, so we expect to update everything from the combat system to the UI between now and full launch.
Throughout Early Access we plan to do large monthly updates, alongside smaller patches roughly weekly. Some of these may be unstable, and will use a special branch so that the core game is never in a messy state."
What is the current state of the Early Access version?
"Curse of the Dead Gods is a fully-featured roguelite with a challenging curve, tight combat, and dozens of weapons, relics, curses, rooms, traps, and much more to discover. All the core systems are in place but in at-most-beta state. Major changes can and will happen based on your feedback, and we're excited to get started.
The Jaguar section that makes up the current version of the game should be considered a little under a third of the final planned content. However, as each run is randomised there is plenty to discover in just this first segment."
Will the game be priced differently during and after Early Access?
"We intend to increase the price alongside the introduction of new content."
How are you planning on involving the Community in your development process?
"Discord, forums, Twitter, smoke signal, inscribed runes, reading the intestines of pigs, hastily scrawled messages written on dungeon walls in blood - we're interested in every piece of feedback you can give us and every way you might do it. We have in-built telemetry, so simply by playing the game you'll assist in the balancing process. Beyond that, we welcome you to talk to us however you like with opinions and requests. We're a small team and won't be able to implement every brilliant suggestion we receive, but we can't wait to make the game you want to play as good as possible."
system requirements
Windows - Minimum
OS: Windows 7/8/10
Processor: Intel Core i3-2125 (3.3 GHz)/AMD FX-4100 (3.6 GHz)
RAM: 4 GB RAM
Graphics card: 2 GB, GeForce GTX 660/Radeon R7 370
HDD: 2 GB
Windows - Recommended
OS: Windows 7/8/10
Processor: Intel Core i7-3820 (3.6 GHz)/AMD FX-8350 (4.0 GHz)
RAM: 8 GB RAM
Graphics card: 2 GB, GeForce GTX 760/Radeon R9 280
HDD: 2 GB
© 2020 Curse of the Dead Gods, developed by Passtech Games, published by Focus Home Interactive.
Required configuration
Windows - Minimum
OS: Windows 7/8/10
Processor: Intel Core i3-2125 (3.3 GHz)/AMD FX-4100 (3.6 GHz)
RAM: 4 GB RAM
Graphics card: 2 GB, GeForce GTX 660/Radeon R7 370
HDD: 2 GB
Windows - Recommended
OS: Windows 7/8/10
Processor: Intel Core i7-3820 (3.6 GHz)/AMD FX-8350 (4.0 GHz)
RAM: 8 GB RAM
Graphics card: 2 GB, GeForce GTX 760/Radeon R9 280
HDD: 2 GB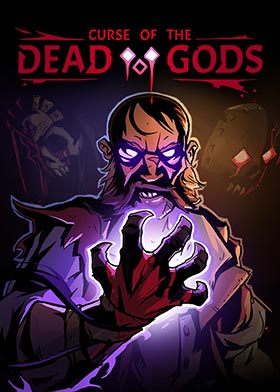 Language:

English

Genre:

Platform:

PC Win 7 32/64 bits Win 8 32/64 bits Win 8.1 32/64 bits Win 10 32/64 bits

Release date:

2020-03-03

Publisher