Crash Time 2
NOTICE: Activation key must be used on a valid Steam account, requires internet connection.
ABOUT THE GAME
---
Solve exciting criminal cases on the mean streets as member of the autobahn police force - or freely explore the open game world while chasing down high-octane racers. Escort politicians, transport precious goods or take down the criminal element with over 500HP and close to 200MPH. With fully destructible cars, arcade gameplay, outstanding graphics and stunning slow-mo effects,
Crash Time 2
puts you right in the driver seat, ready to burn rubber.
KEY FEATURES
---
5 huge criminal cases to solve with up to 10 missions each


Solve cases or freely pursue crimes in the game world


Many bonus assignments and more than 40 new tracks


Over 20 AI cars with visual damage system


Spectacular pileups with impressive and realistic graphics


3 different difficulty settings


Additional tasks and mini games are hidden to be discovered
SYSTEM REQUIREMENTS
---
Operating system: Windows XP/Vista/7
Processor: 3.2 GHz Processor
Memory: 1024 MB RAM
Hard disk space: 4.2 GB of available hard disk space
Video: DirectX compatible 256 MB graphics card
Sound: DirectX compatible audio card
DirectX®: 9.0c
Controller support: Mouse and Keyboard
---
2009 © Meridian4. All rights reserved. Crash Time 2 is a trademark of RTL Interactive Game Publishing. All rights reserved. All other trademarks and copyrights are the properties of their respective owners.
Required configuration
Operating system: Windows XP/Vista/7
Processor: 3.2 GHz Processor
Memory: 1024 MB RAM
Hard disk space: 4.2 GB of available hard disk space
Video: DirectX compatible 256 MB graphics card
Sound: DirectX compatible audio card
DirectX®: 9.0c
Controller support: Mouse and Keyboard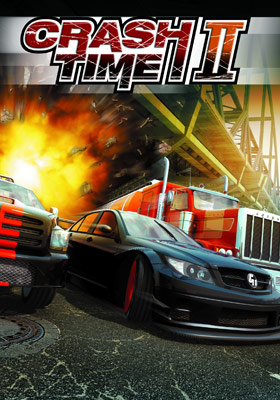 Language:

English

Genre:

Platform:

Vista Win XP Win 7 32/64 bits

Number of players:

1

Release date:

2009-08-27

Publisher